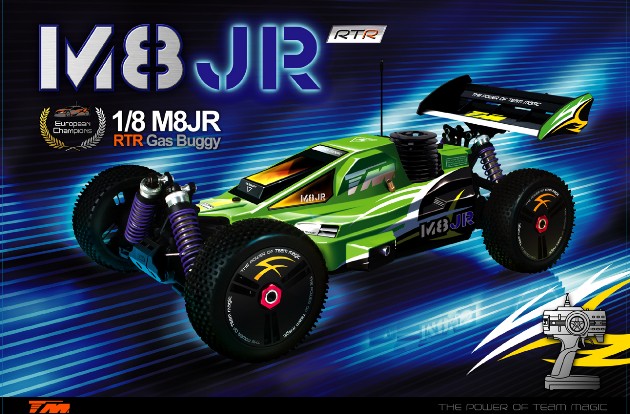 Beat the Competition At a Price You Can't Beat!
Introducing the M8JR the best RTR 1/8 Scale Buggy created from our most popular M8 series.
At Team Magic, we are customer driven! We took all of the tank-tough, high-end engineering that we built into our race winning M8 buggy and created the most affordable dirt-pounding, track-ripping RTR package available.
The M8JR gets you up and running right out of the box without spending the big bucks it takes even just to get a rolling chassis from some companies.
The M8JR is designed for you, the racer who wants a competition killer at an unbeatable price. We give you everything you need to lay down some serious rubber, kick up some dirt and dominate the competition. Whether you're bashing around the neighborhood or tearing up the local track, when you get this new RTR package, you get all the tools to rule.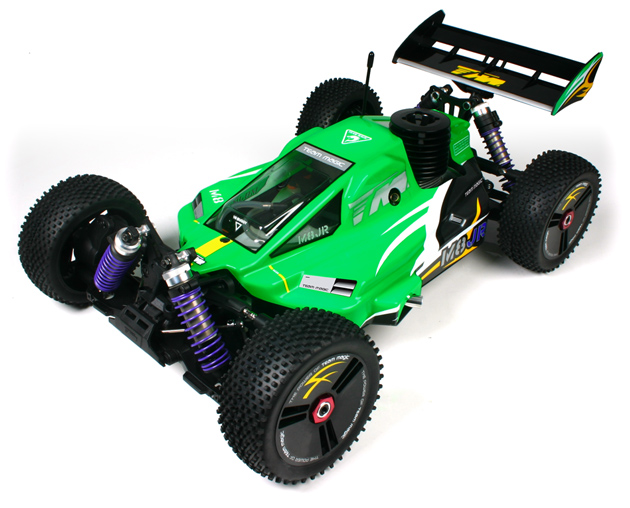 Design Concept
We took the conventional 1/8 scale off-road buggy design and focused on what you, the racer, want in a buggy.
Your experience and feedback in driving these dirt churning machines is what influences our thinking and re-thinking. The resulting design reflects your desire for speed, durability, performance and ease of maintenance.
Our revolutionary "Flying Wing" design on suspension arms has proven to be a truly remarkable feature that adds strength, durability and aerodynamics to this most essential buggy component. That's just one example of the leading edge engineering you get with the M8JR.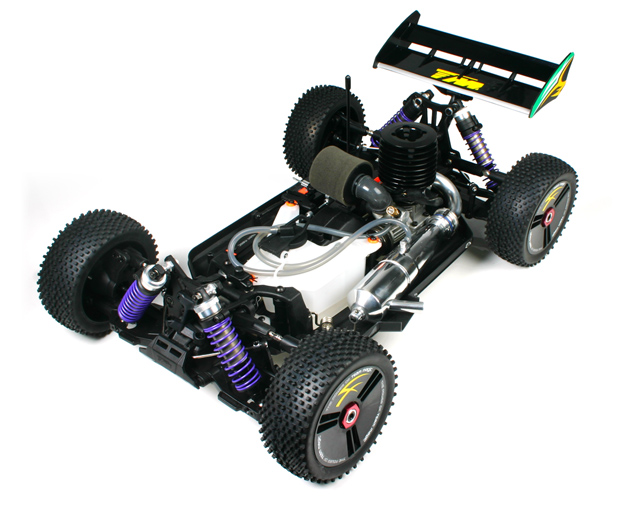 Going a step further, we made it affordable without compromising quality. The Team Magic M8, M8JS and M8JR have evolved from that process to give you the best of the best in performance and value.
Unique Features
What sets the M8JR 1/8 scale buggy apart from the rest? Check out these unique features:
Super Easy Maintenance
There's nothing worse than having to take half the car apart to change one item. The M8JR is almost effortless to maintain. You can get to the transmissions easily with the removal of only a few screws. The layout is simple but effective which actually makes it easy to make adjustments and quick fixes on any part of the M8JR right there in the pits. We know you'd rather be racing than wrenching.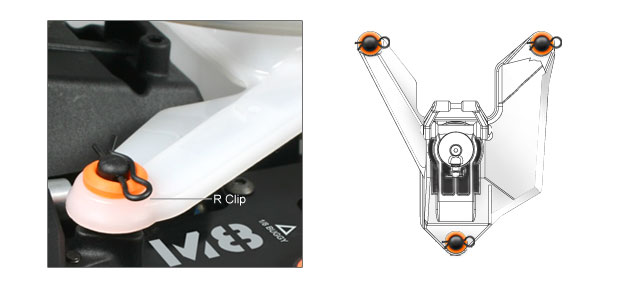 Precision Factory Built
You finally get your box home and can't wait to get your buggy on the track. Who wants to spend hours searching for Bag A and fumbling through parts trees all night? Relax, we've done the hard work for you.
Each M8JR is 90% factory precision built.

Upgradeable
The M8JR comes standard with everything you need to outrun, outjump and outrace the competition. But we know you want to do it with a little more style, a little more flash of maybe a little more aluminum. One word… upgrades! The M8JR is upgrade compatible with most parts already available on the M8 like:
Alum. 7075 Steering Block (CNC machined)
Alum. 7075 Shock Tower (CNC machined)
Vented Brake Discs and Premium Brake Pads
Special Alum. Clutch Shoe
ST Steel Hinge Pin
The Power Plant
At the heart of the M8JR is a 3.48cc engine built to output some serious horsepower. With a 16.4mm bore and 28000 dirt-kicking rpm behind the wheels, this RTR will lead the pack with no mercy. The convenient pull-start will also keep you "ready to rev" without being shackled to a starter box.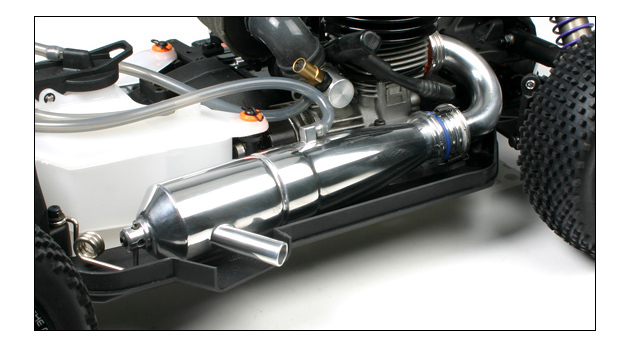 Included with the engine is our polished exhaust header and high performance two chamber tuned pipe, designed to get every ounce of torque and top speed out of the engine. This engine/pipe combination is perfectly matched and ready to bring your M8JR to life kicking and screaming, giving you that lightning-fast acceleration you want when you pull the trigger.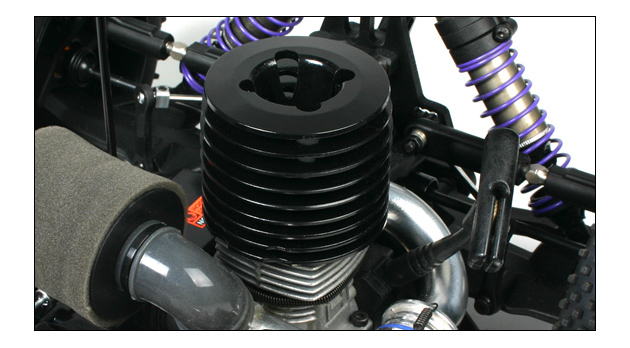 The System
Included with the package to control this beast is a complete radio system with high quality H.A.R.D. servos engineered by Futaba. The high torque steering servo delivers quick response and hard turning power while the five cell NiMH battery pack gives you more than enough long-lasting power to energize the system.
Dual lay-down servo design lowers the center of gravity, keeping the M8JR planted when entering a turn, exiting a turn or when you're really in the zone and execute that awe-inspiring power slide.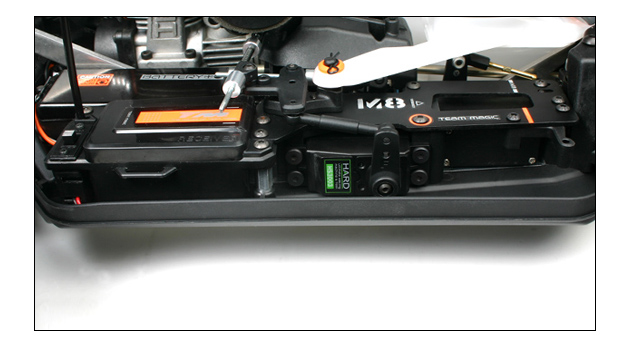 Every M8JR electronic system is installed, tested and ready to rip. Go from box to bricks in a matter of minutes with nothing to add except fuel and the need for speed. We know you can't wait to get racing so we at Team Magic do all the work with nothing for you to do except open the box have a blast… it doesn't get any easier than that!
Aluminum 7075 Center Driver Shaft
Transferring power from the engine to the transmission effectively is always top priority. The M8JR uses Aluminum 7075 center driver shaft to get the job done. Precise machining eliminate s slop and play, getting every ounce of thrust from your power plant.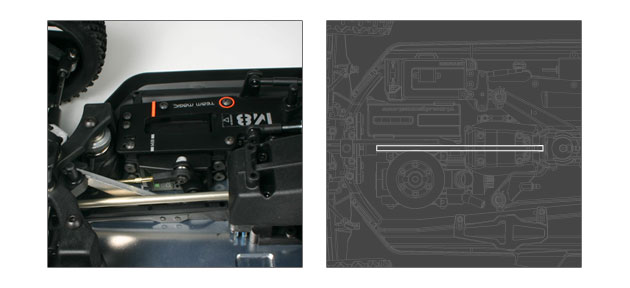 Alum. w/ nylon Hinge Pin Mount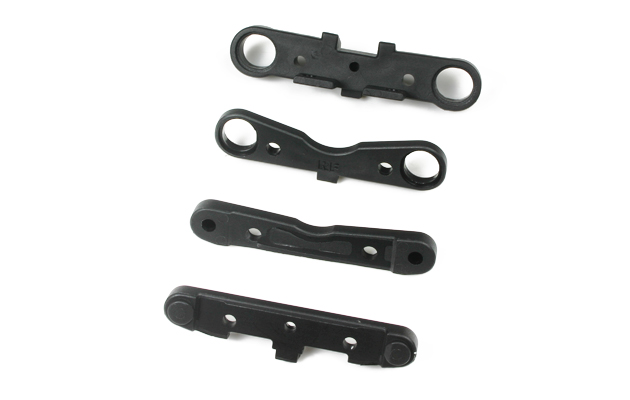 Combo material Hinge Pin Mounts have the advantage of lightweight and strength.

The New Gear

This RTR would not be complete without the highly acclaimed chassis and gear the M8 series of buggies are famous for. The long list of high performance gear in this package makes the M8JR the one to get and the one to beat.
Here are some highlights of the M8JR RTR package:
Backbone
· 3mm 7075 (CNC machined) Aluminum Chassis
· 4mm 7075 (CNC machined) Chassis Stiffener
· New 2 mm Aluminum Radio Plate
· Upgraded Receiver Box with Aluminum Antenna Mount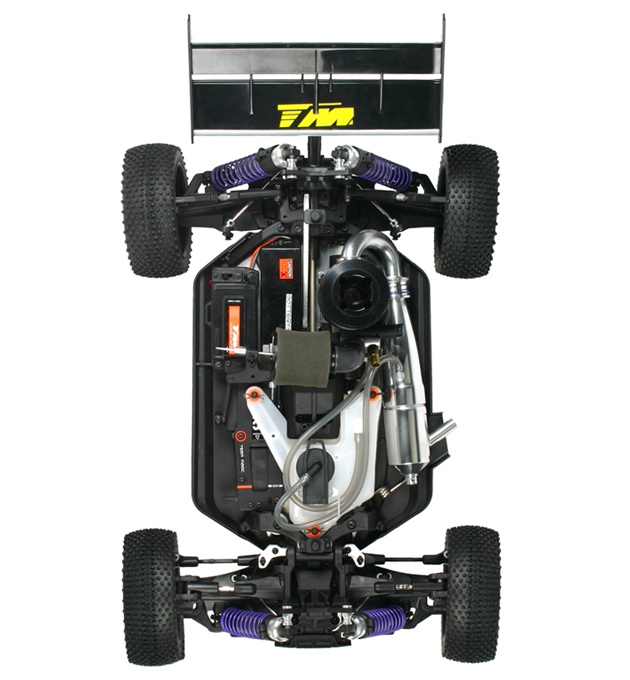 Transmission
· 3 Shoe Clutch System
· Steel Front an Rear Universal Joints
· Lightweight 7075 Aluminum Center Drive Shaft
· Steel Outdrives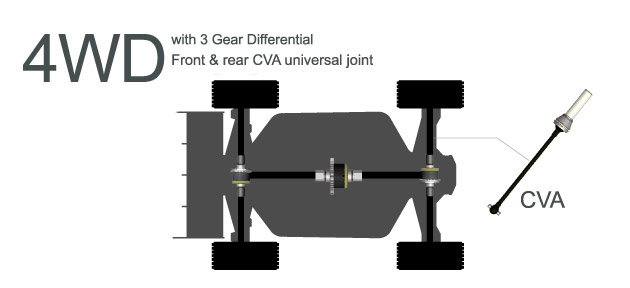 Having a powerful engine is one thing but having a transmission to convert that power into awesome speed and a checkered flag is priceless. Three steel laden bevel gear transmissions get the ponies up and running for the M8JR.
Precision built and built to last, these track ripping power boxes will maximize the potential of any engine strapped to the M8JR giving you a smooth transfer of power to each wheel. The beefy steel outdrives connected by universal joints can take whatever punishment you can dish out and not skip a beat. That's Team Magic engineering at its best.
Handling
The real test of a true racing machine is how it handles on the track. All the hop-ups in the world won't help you if your buggy can't handle jumps or spins out in a turn. That's why we paid special attention to drivability and built-in to the M8, M8JS and M8JR the best handling characteristics you can find on any 1/8 scale buggy at any price.
Superior Balance
You might think it doesn't matter where you place the battery box or where the engine sits. But we know that a vehicle with unbalanced weight distribution, is like trying to drive a brick on 3 wheels.
Centralized components are the backbone of the M8JR. A fully loaded fully fueled buggy has an entirely different balance than an empty chassis. Placing the engine in the right position in relation to the servos, battery packs, fuel tank and differentials is an exact science.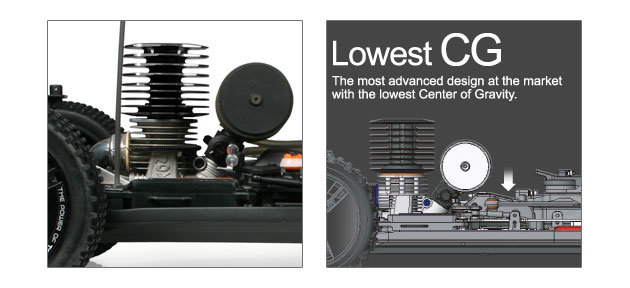 Our engineers and test drivers tweaked and adjusted the component positions until the center of gravity on the M8JR was right on target. You will notice how level it is in mid flight just off of a jump or how the wheels stay planted in a hard turn. Even on a power slide, the M8JR won't get out of shape giving you that first out of a turn advantage.
Lay-down servos and a low-profile fuel tank keep that all important center of gravity as low as possible, helping you corner like it's on a rail. Even the aerodynamic low-profile slim body, adjustable rear wing and "Flying Wing" suspension are designed to keep you planted and in charge.
Fully Tunable
M8JR comes with all Tunable Bar.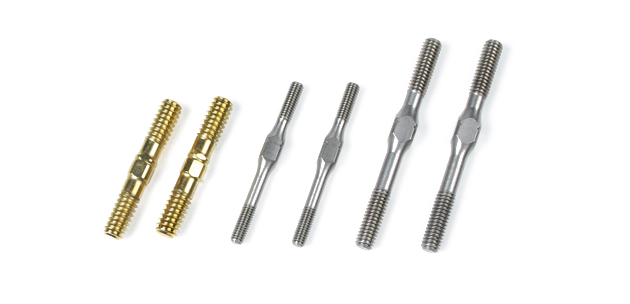 The M8JR can be "dialed" to any track condition you encounter. Check out these tuning features:
Multiple Shock Angle Positions
Caster and Camber Adjustments
Toe Angle Adjustments
Tunable Anti-roll Bar
Adjustable Wheelbase
Anti-squat Control
Adjustable Ackermann Settings
Front and Rear Droop Settings
Front and Rear Ride Height
Setting up the M8JR is as individual as your driving style or track conditions. Detailed setup sheets are included for you convenience or you can download different setups as they become available.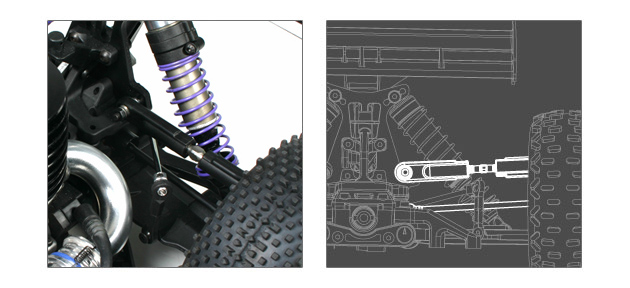 Shock System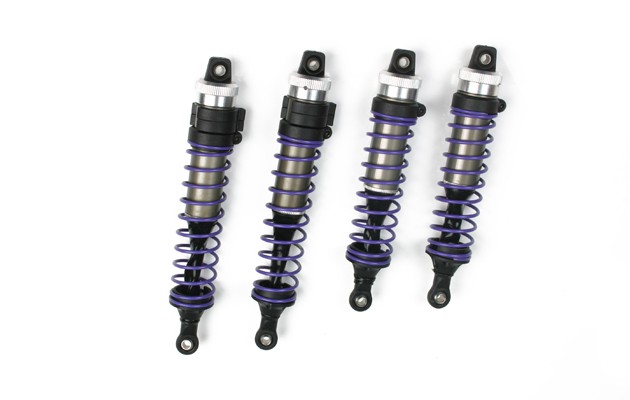 Aluminum shocks on the M8JR come fully assembled and ready to fill and tune. K-Factory shock oil is included at our recommended weight. Different spring weights are also available to handle any track setup. Shock boots are also included to keep dirt and debris out of your damper system.
Extra long Big Bore shocks give you extra long suspension travel for those single, double or triple jumps.
Some companies offer many of these features as an option. At Team Magic, quality is not an option, it's a priority.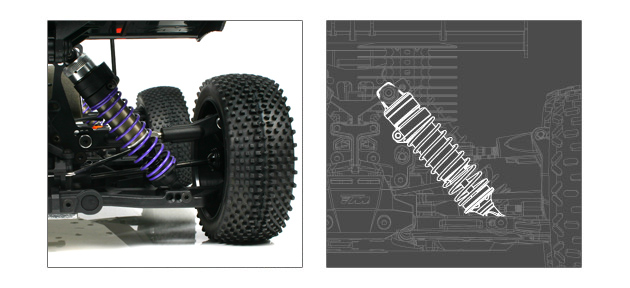 Differentials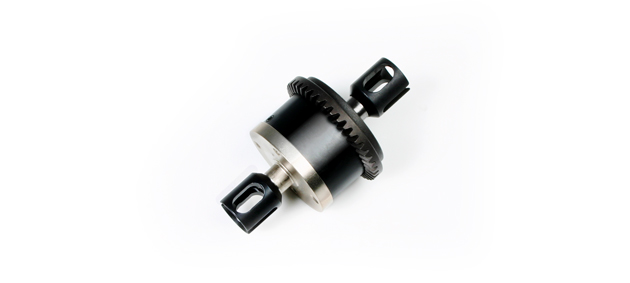 One of the most time consuming tasks for most 1/8 scale buggies is getting to and maintaining the differentials. The M8JR features Quick Release Front/Middle/Rear gearboxes making adjustment and maintenance a snap. The quality steel used in our bevel gears stands up to anything a hard driven race can bring so maintenance is minimal, while performance is maximized.
K Factory differential oil is included in the kit with the recommended weight. A large assortment of K Factory diff oils are available for fine tuning as well.
Chassis
7075 Aluminum is strong, lightweight, resists corrosion, stiff and resilient. It can be precision milled into just about any shape or form providing the framework for the toughest of RC vehicles. This "super" material is the foundation of the M8JR chassis.
Bolted to this 3mm thick chassis are high impact resistant composite suspension parts built to take a beating and still hit the ground running.
Suspension
· 4mm Aluminum Shock Towers
· Flying Wing Suspension Arms
· Adjustable Front and Rear Wheelbase
· Adjustable Front and Rear Anti-roll Bar
· Heavy Duty Aluminum Shocks
Strength
The M8JR is one tough cookie. Our techs and test drivers spared no effort to try and find any weak spots that would send you to the pits. After rigorous track testing, hard racing and bashing, every component that needed improvement was redesigned and re-tested to make the M8JS one of the strongest and most impact resistant 1/8 scale buggy out there.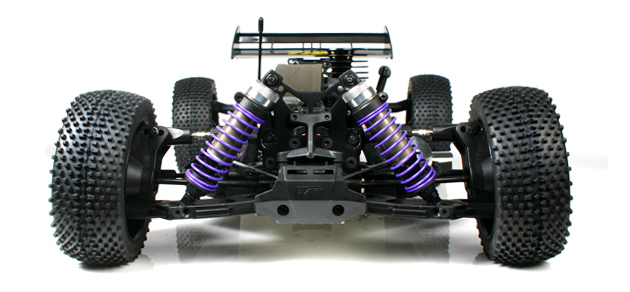 The Look
An added complement of the M8JR is the unique styling of the pre-painted body wing and wheels.
The unmistakable design of jet-black vented dish wheels, accented by Team Magic's signature decals and red-anodized wheel nuts puts the M8JR in its own class… Tank Tough with Attitude!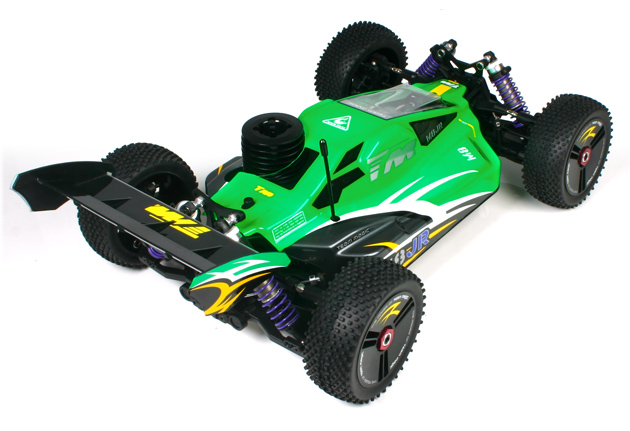 Still, the M8JR is tough cookie, user friendly, designed with quick-release gear box, rear wing, fuel tank and smart transponder mount. Precision factory assembled with the addition of high-bite, rugged performance grade tires,
the M8JR is clearly the leader in the RTR buggy arena.
With standard features only found on most high-end buggies, Team Magic's race-proven engineering and the most affordable package in the industry, it is understandable why the M8JR RTR 1/8 scale off-road buggy is by far the best value in off-road racing…period!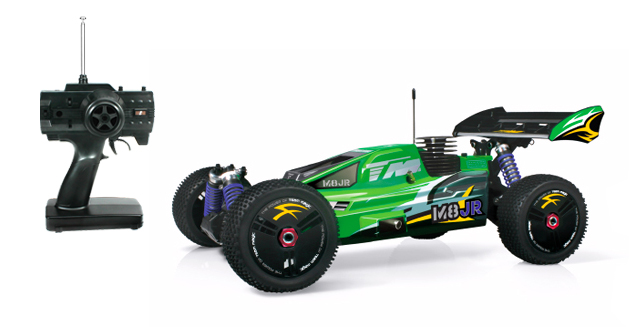 That's the power of Team Magic!
Features:
Super Impact Resistant
Lightweight.7075 Aluminum Center Drive Shaft
Extra Long Big Bore Shocks
Extra Long Suspension Travel
Large Receiver Box
Adjustable Wheelbase
Adjustable Rear Upper Linkage
New Generation Dimension
New Style Low Profile Slim Body
Quick Release Front/Middle/Rear Gearbox
Quick Release Fuel Tank
Low CG design
Specifications
1/8 4WD Gas Buggy (Factory Assembled, RTR)
Weight: 3450g
Length: 501mm
Width: 305mm
Wheelbase: 320~328mm
Gear Ratio: 10.868:1