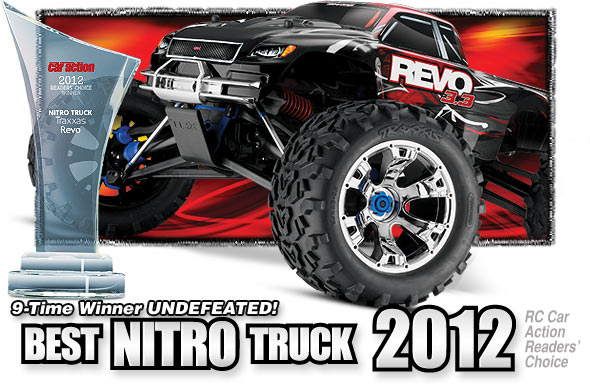 NEW TQi 2.4GHz Radio System with Docking Base

Accessory Telemetry Sensors Available Separately

OptiDrive® ­Reversing Transmission
Rechargeable Receiver and EZ-Start®Batteries Included!
Bigger, Tougher, More Versatile Than Ever!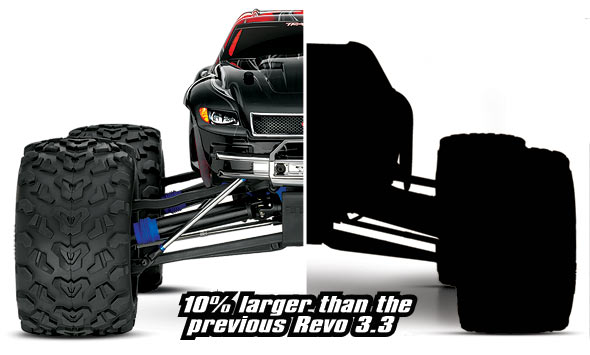 ­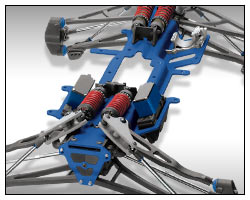 Monster innovation, monster versatility, and supreme size come together in the one truck that could only come from Traxxas. Now more than ever, the new Revo 3.3 defines what it means to be the pinnacle of monster truck performance, the standard bearer for cutting edge innovation and boundless capability that all others are measured against. The new Revo 3.3 is pure monster to its core with its massive presence, meaner gaze, and feature-rich capability. More importantly, Revo's advanced engineering equips it for fun, and the new Revo 3.3 delivers even more of it!
­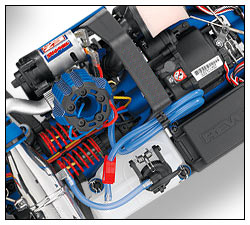 Revo's specifications are more than just an impressive list of features. They are each specifically engineered and integrated into the model to provide capability and convenience that equates to fun! Revo 3.3's heavy-duty reversing transmission lets you easily back out of tight spots with the flick of a switch, while the OptiDrive® Electronic Transmission Control guarantees safe, smooth engagement every time. Revo engineering makes it the smoothest reversing system available on any nitro truck. The new Traxxas TQi 2.4GHz radio system features the exclusive Docking Base™, a revolutionary concept that harnesses the power of your Apple iPhone or iPod touch to create the ultimate pro-caliber radio system. The TQi™ radio system keeps you in complete control with the latest 2.4GHz technology for no-crystals-required reliability and convenience. Just switch on and drive. ­New Geode™ chrome wheels with 17mm hex hubs wear massive 6.3" Maxx®-sized tires for big ground clearance and total traction in all conditions. Revo 3.3's dual-digital servo steering system delivers 250 oz.-in of torque for powerful, responsive handling, plus they're waterproof for ultimate reliability. The new Revo 3.3 is 100% Ready-To-Drive®—even a fuel dispensing bottle and rechargeable NiMH packs for the receiver and EZ-Start system are included, along with the chargers, extra oil filter, extra glow plug, precision tool set, and more! All the race-engineered advantages that make Revo a seven-time national champion on the track also make it the ultimate platform for all your monster truck fun. Revo durability is second to none, once the long travel rockers are installed, Revo has the most suspension travel of any monster truck.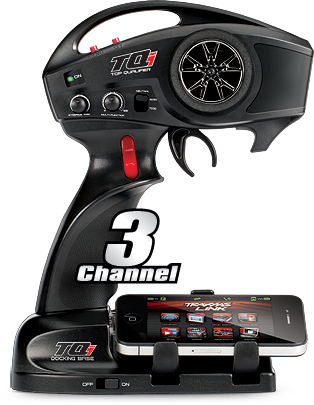 Revo 3.3 is equipped with the world's most advanced Ready-To-Race® radio system. The all-new Traxxas® TQi™ radio system with Docking Base turns your iPhone® or iPod touch® into a powerful tuning tool. The device display combines with the Traxxas Link™ App to deliver an intuitive, high-definition, full-color graphical user interface that optimizes your radio system for ultimate vehicle control. Automatic model recognition instantly recalls your settings for up to 30 Traxxas Link-enabled models—just switch on and drive. This powerful App gives you complete control over the operation and tuning of Revo 3.3 with an intuitive, high definition graphical user interface. Once you have created the perfect control settings for your model, you can save them as a profile that you can restore later, use on another model, or share with friends. Traxxas Link telemetry sensors (sold separately) transmit real-time data including speed, RPM, temperature, and battery voltage with stunning visuals. Learn more about the new Traxxas TQi Radio System here.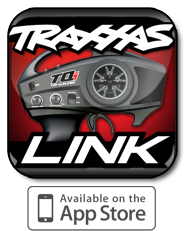 Traxxas Link makes it easy to learn, understand, and access the powerful tuning options built into every Traxxas TQi radio system. Control your Drive Effects settings such as steering and throttle sensitivity; steering percentage; braking strength; and throttle trim by simply touching and dragging the sliders on the screen, or enabling the Multi-Function knob on the transmitter. Everything happens live, on-the-fly, giving you instant feedback on your changes.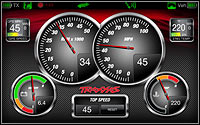 When you add optional telemetry sensors (sold separately) to your model, Traxxas Link collects and records real-time telemetry data as you drive. The Traxxas Link dashboard comes to life showing you speed, battery voltage, RPM, and temperature. The application automatically detects and recognizes Traxxas Link sensors for easy set up and configuration. The dashboard is fully customizable with either dial or digital readout gauges. Up to nine gauges can be displayed at once. Set threshold warnings and log maximums, minimums, or averages. Use the recording function to document your dashboard view, with sound, so that you can keep your eyes on your driving and not miss a single apex. If you forget to record, simply touch Instant Replay anytime to capture the previous minute of fun and unexpected triumphs. The recordings can be named, saved,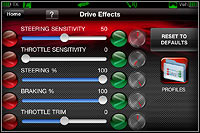 and shared with others.
Once you have created the perfect control settings for your model, you can save them as a profile that you can restore later, use on another model, or share with friends. If the track conditions change, simply re-tune your Drive Effects and save them as new profile. Only Traxxas Link makes pro-level transmitter tuning so fast, convenient, and easy.
­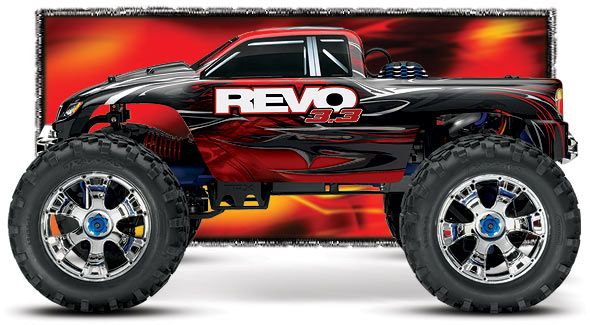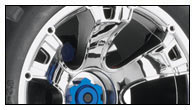 The new Revo 3.3 is a full inch wider with an even more aggressive, high-riding monster stance thanks to new Geode™ wheels and massive 6.3" Maxx-sized tires. The rugged all-terrain treads have wrap-around lugs to give Revo 3.3 trail-shredding traction, and the wheels' extra offset ensure a sure-footed feel no matter how tough the terrain. Blue-anodized 17mm hex hubs with Traxxas' exclusive splined design guarantee every powerful stroke of Revo's class-leading TRX 3.3 engine is channeled directly to the wheels. The Geode wheels' durable show-chrome finish helps you look your best when you're at the front of the pack.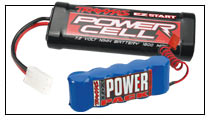 That's all you need to go from the box to the backyard with the Revo 3.3—4 AA batteries for the transmitter, and Traxxas Top Fuel® Power Plus™ to pour into the tank. The Revo 3.3 is fully assembled, with pre-glued tires, a mounted and trimmed ProGraphix body and dialed-in electronics. But we didn't stop there; a high-quality 5-cell NiMH receiver pack AND 6-cell EZ-Start battery are included, each with its own charger. A 500cc fuel bottle is also included for fast fillups, and there's even a spare glow plug and air filter element to keep you running strong. A precision metric specialty tool set is also included for easy servicing. Everything you need to experience nitro monster fun the Traxxas way is in the box.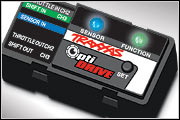 Only Traxxas offers a no-compromise reversing transmission with seamless power delivery, positive engagement, and smooth, responsive acceleration in forward and reverse. The secret is Traxxas' exclusive OptiDrive® Electronic Shift Module, a microprocessor-based controller that senses vehicle speed and optimizes forward and reverse shifting. OptiDrive allows constant drive engagement, so shifts are fast and seamless. The electronic control also prevents accidental shifting at speed; the shift module will only allow the transmission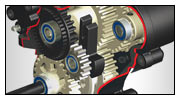 to shift when the Revo 3.3 has slowed to a safe speed. In addition to providing the absolute best performance, the OptiDrive system allows a lighter transmission with fewer moving parts for reduced inertial mass and greater torque handling. That means more monster fun with no penalty for the convenience of reverse.
­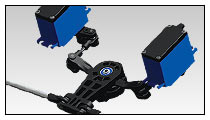 Simply the finest servos in the Traxxas line, Revo 3.3's dual 2075 steering servos deliver an incredible 250 oz.-in. of torque to keep you in complete control in all conditions, with the handling precision you expect from a seven-time National Champion. Digital circuitry and ball-bearing output shafts give these servos incredibly precise centering, lightning-fast response, and superior power. And they're waterproof! When not even water can get in, you can be sure dust and dirt don't stand a chance.
­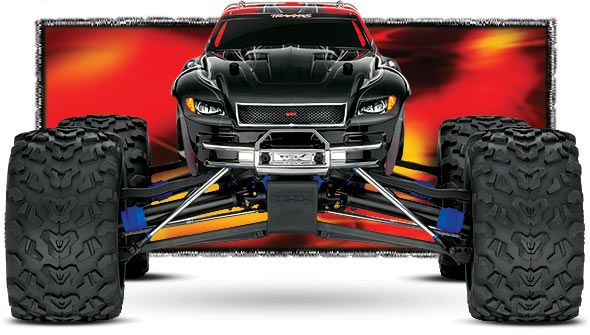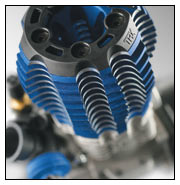 When it comes to sheer power, high-rpm performance, and reliability run-after-run, no engine can even come close to the award winning TRX® 3.3 Racing Engine. This precision-engineered powerplant is the solution that brings it all together with extreme horsepower that is second to no one; easy tuning; full Traxxas reliability and support, including the Lifetime Engine Replacement Plan; and the pure convenience of one-touch, push-button, EZ-Start electric starting.
­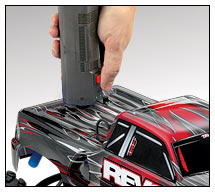 Only the Traxxas EZ-Start® offers the pure convenience of true one-handed operation and complete on-board, push-button electric starting. EZ-Start is the safest and most reliable way to start your engine. The Traxxas EZ-Start lights your glow plug and starts your engine quickly and smoothly at the push of a button. Traxxas' exclusive Smart Start® technology monitors critical starting functions, automatically sensing and diagnosing potential problems for trouble-free engine starting every time! Once you've used EZ-Start you'll wonder how you ever enjoyed a nitro engine without it—and with Revo 3.3's included EZ-Start battery and charger, everything you need to enjoy electric starting convenience is right in the box.
Ready-To-Drive® with included NiMH receiver pack and EZ-Start battery, chargers, fuel-filler bottle, spare glow plug, precision tools, and more!

NEW

TQi™ 2.4GHz Transmitter with Docking Base and Receiver
Wider, taller stance with new Geode™ wheels and 6.3" Maxx-sized tires
Sinister new body with ferocious graphics
Heavy-duty reversing transmission with exclusive OptiDrive® Electronic Shift Module
Dual digital waterproof ball-bearing servos with 250 oz.-in. combined torque
­
­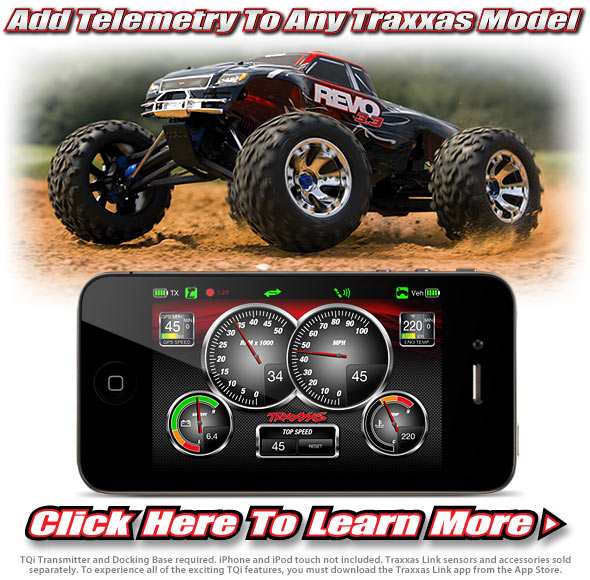 MODEL 5309: Fully assembled, Ready-To-Race®, with TQi™ 2.4GHz radio system
with Docking Base, TRX® 3.3 Racing Engine and ProGraphix® painted body.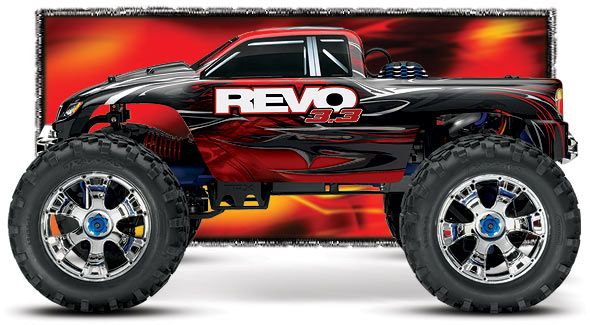 Included Accessories:

1200mAh 5-cell receiver battery
1500mAh 6-cell EZ-Start pack
Fuel filler bottle
Extra glow plug
Extra oiled air filter
Long travel rockers & springs

wide-track body with custom graphics
TQi 2.4GHz High Output radio system with Docking Base™


TQi 2.4GHz High Output transmitter
TQi Docking Base™
Automatically stores and loads settings for up to 30 Traxxas Link-enabled models—just switch on and drive, "model selection" is not required
Multi-Function knob
Adjustable steering and throttle percentage (dual rates)
Adjustable steering and throttle sensitivity (exponential)
Adjustable steering and throttle end points
High 13ms frame rate and near-zero latency for responsive control
Telemetry-ready 5-channel micro receiver with dual channel-1 input
Docking Base accepts iPhone and iPod touch (sold separately) for full Traxxas Link application functionality
Accessory speed, RPM, and temperature telemetry sensors available separately
TQi 2.4GHz 5-channel micro receiver (#6518) with fail-safe security and integrated telemetry ports


17mm hex Geode™ mirror-chrome

­


wheels with pre-glued on 6.3" Maxx-Sized Tires
17mm aluminum splined wheel hubs and nuts
Large capacity 150cc fuel tank
Hard-anodized Teflon®-coated GTR shocks
with TiN shock shafts
High flow dual-stage air filter

­

Installed progressive 2 long travel rockers
Dual 2075 digital high-torque, ball bearing steering servos deliver 250 oz-in & 0.16-sec transit time
Blue-anodized chassis and chassis brace

­

RX box includes 5-cell flat rechargeable RX pack
Heavy-duty reversing OptiDrive® transmission

Two-speed forward/reverse transmission
Low rotating mass for quick, high-revving acceleration
Constant drive engagement is smooth and instantly responsive
Sealed case protects gears & two-speed from damaging debris

­

Large diameter front disc brake

­

Polished Resonator™ dual chamber tuned pipe
High-revving TRX® 3.3 Racing Engine for proven championship-winning horsepower and speed

Bigger piston and sleeve delivers extreme power
Consistent and smooth throughout the entire power band
Straight-through exhaust flow
Slide carburetor
Knife-edged connecting rod
Large aluminum blue-anodized cooling head
Super-light piston and rod
High-performance ball bearings

45+mph top speed
EZ-Start® push-button electric starting.
Torque-Control™ slipper clutch
Sealed limited slip front and rear differentials
Super-duty sealed driveshafts
Sealed pivot ball suspension
Rubber-sealed ball bearings
Hex hardware
proGraphix® body graphics

Length
20.65" (525mm)
Front Track
17.5" (444.5mm)
Rear Track
17.6" (447mm)
Weight (no fuel)
10.5lbs (4.75kg)
Center Ground Clearance
4.25" (108mm)
Height (overall)
11.024" (280mm)
Wheelbase
13.7" (348mm)
Front Shock Length
GTR™ Aluminum 3.43" (87mm)
Rear Shock Length
GTR™ Aluminum 3.43" (87mm)
Front Tires
Maxx-Sized Tires 6.3"x3.8"
Rear Tires
Maxx-Sized Tires 6.3"x3.8"
Wheel Diameter
3.8" (97mm)
Suspension
Fully Independent Progressive 2 Rockers
Front Wheels
Geode™ mirror-chrome wheels
with 17mm Splined Hex Hubs
Rear Wheels
Geode™ mirror-chrome wheels
with 17mm Splined Hex Hubs
Gear Ratio (1st Gear)
25.55:1
Gear Ratio (2nd Gear)
16.31:1
Transmission
OptiDrive® Auto Two-Speed FWD/REV
Differential Type
Bevel Gear, Sealed, Limited Slip
Drive System
Shaft-Driven 4WD
Chassis Type
Extended Chassis, 3mm, 6061-T6 Aluminum
Radio System
Traxxas TQi™ 2.4GHz radio system
with Docking Base (3-Channel)
Engine (fuel-powered)
TRX® 3.3 Racing Engine w/ EZ-Start®
Brake Type
Steel Disc with semi-metallic pads
Fuel Tank Capacity
150cc
Top Speed
45+mph
Skill Level
4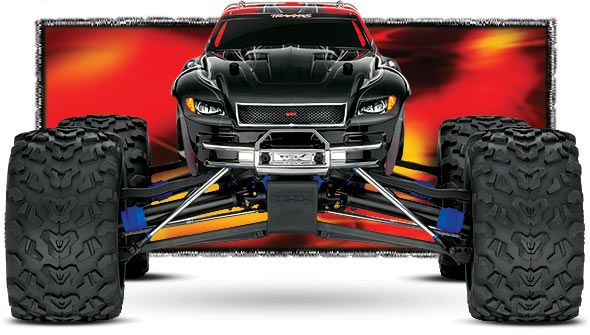 MODEL 5309: Fully assembled, Ready-To-Race®, with TQi™ 2.4GHz radio system
with Docking Base, TRX® 3.3 Racing Engine and ProGraphix® painted body.